Zoey Kohl headed to state
Zoey Koehl is the only choir student in our district to make all-state for TMEA (Texas Music Educators Association) this year. 
Auditioners from all over Texas compete by singing a portion of three songs from a list of all-state music. Only about 60 of the 15,000 of those who audition make it into the all-state mixed choir. Zoey placed second in her area, making her one of the top altos in the state. 
"Zoey is one of the most driven and talented students I've come across in my 11 years of teaching," Mr. Specht, the choir director, said.
Even with a great musical background and beautiful voice, those things would be meaningless without the hussle and determination Zoey has. 
"I started preparing in May and then I probably practiced two to three hours everyday," Zoey said.
All of the effort Zoey puts into auditions have led to her making state for this, her third time.
"Before singing I was pretty nervous, because there was some pressure since I've made it before, but I was also really excited because I've prepared a lot." 
Not only has she put in effort daily for these auditions, but she's had over 8 years of "preparation" before auditioning for TMEA. 
"When my sister made state, I wanted to also so I tried out my freshman year."
Auditioning for all-state started as a "competition" with her sister who had made state for band in middle school. Zoey then decided she would do all she could to make state as well.
"I celebrated a lot, we went out to dinner and everyone was really happy," Zoey said. 
Zoey not only made a core memory in her own life, but she will have forever left a mark on our school as the first choir student from Pieper to perform at the all-state level.
"I was excited when I heard Zoey made it to state; she's the first all-stater I've had. Some students in the past came very close, but she's the first one not just for me, but for the school." Mr. Specht said. 
This Wednesday, Zoey will be sent off to perform with a group of other all-staters in front of several thousand people. The entire school will collectively cheer Zoey on as she heads out for the performance.
"I feel really honored to be the first to make it this far," Zoe said.
Leave a Comment
About the Contributor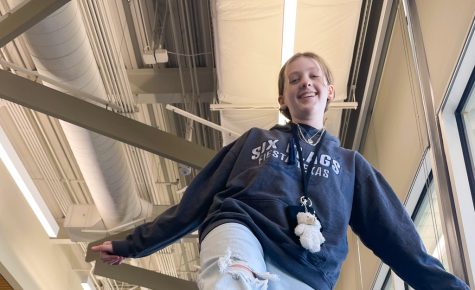 Katelyn Shenk, Staff Reporter
Katelyn Shenk is a sophomore at Pieper High School. She is involved in the Kindness Club and Journalism. Katelyn enjoys the creative writing portion of...