Concert Review: The Eras Tour, Taylor Swift
  Taylor Swift's Eras Tour, which began March 17 at State Farm Arena in Glendale, Arizona, featured 52 events, 20 stadiums, 10 albums, and 44 songs lasting more than three hours. On this trip, there are numerous wardrobe changes. Being compared to a "Broadway musical" by many. 
     She began the performance with a number of songs from "Lover." It was amazing to see "The Man," performed in full office cosplay; and "Cruel Summer" had an almost euphoric coldness to it. She then went back to her second album, "Fearless," which was the first one she recorded knowing that her romance with country music might only be a brief fling. The sincere appeals in "Love Story" and "You Belong With Me" maintained their old energy. She asked the crowd if they were "ready to go back to high school with me" before "You Belong With Me," which was both a dare and a sincere question.    
     After that, Swift switched to her "Evermore" album. Songs like "Tis the Damn Season," "Champagne Problems," "Willow," and others are included. After her "Evermore" period, she immediately jumped into her "Reputation" album. with a tremendously exciting era introduction. Swift was wearing a one-leg bodysuit when she walked on stage.This album included some of her strongest vocal performances on songs like "Don't blame me," "Ready For It," and a few other top successes.
     Following that, Taylor exclusively played "Enchanted" from her "Speak Now" album, to which the fans enjoyed shouting the lyrics. "The performance I saw in Arlington was breathtaking. To hear these records live was such a surreal experience." Stevie Rasmussen said. Taylor swiftly began with "22" and ended with "All Too Well (10-Minute Version)" as we entered the "Red" era. 
    You can see that Taylor is giving this album a lot of love as we move towards the "Folklore" era. Before transitioning to her "1989" Era, songs like "Cardigan" and "Betty" were played. She performs songs including "Shake It Off," "Style," "Wildest Dreams," and many others on her album "1989"! 
     After that, Taylor played two unexpected acoustic songs, which differ based on the show. Taylor makes a stylish exit after finishing these songs by diving into the stage and transitioning into her "Midnights"  era to end the show.
     The time period of "Midnights" brings the most current album by Swift. It has popular songs including "Anti-Hero," "Bejeweled," and the show-closing "Karma."  For the night's finale, the "Karma" performance consisted of fireworks and other breathtaking visuals.
     I feel like it isn't necessary to say, but… this concert was INCREDIBLE! The songs, the nostalgia, the lights and props- everything was exactly what a true "Swifty" could ask for!
Leave a Comment
About the Contributor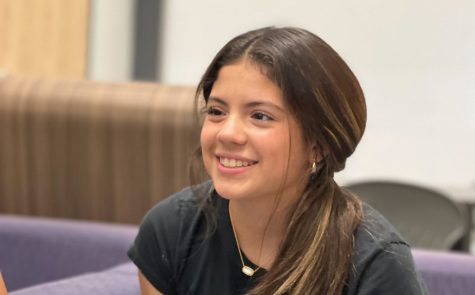 Malorie Ramirez, Staff Reporter
Malorie Ramirez is a freshman at Pieper High School.She is involved in volleyball and journalism. Malorie enjoys the photo captioning and telling the story...